Let The Waves Take Me Down ;;
users currently online
Caught amid limestone caves and meandering streams, Jewelled Creek is a mystery, full of spires of rock and ancient trees.
currently flooded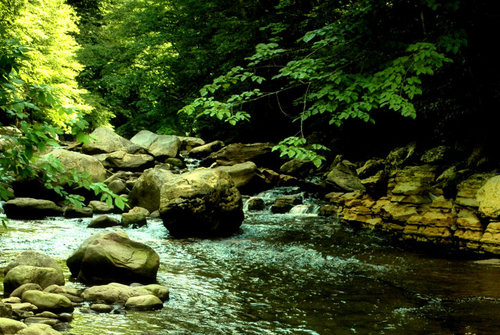 Jeweled Creek is aligned with: No One.
Alpha Stallion

---

Alpha Mare

---

The Heir

---



Unranked Mares

---

Colts

---

Fillies

---
i donít know how it gets better than this
IP: 158.135.158.26
Posted on February 26, 2010 at 10:57:10 AM by LUSITANIA




Ah yes, Voraer. Lusitania had been with Voraer, loving him as a woman truly should. But his pride had gotten the best of him and he tried so hard to push her aside and focus on his kingdom. She knew he had a duty to fulfill, but she had hoped to help him, to be an asset to his herd. But in the end, he didnít want here there and so, she left him to protect their son with his life. She had to move on, to forget all that had happened in the past. Her love for Voraer had to fade so she could move on and live the life she was born to live.

Before her departure, she had told Voraer about Caponeís return and about how he would offer her a place in the Caverns. And because she was hurt and very alone, she told Voraer to accept without another thought as to just how that might affect him. At this point, she just wanted to be happy. Hopefully, she would be able to find happiness with Capone. And if not, she would die protecting him and those he had under his protection. Lusi was nothing but a loyal mare, one who would serve her king and her leaders until the day she took her last breath. And even before Capone had offered her the invitation to dwell in the Caverns, she knew she would accept it and learn to live life to its fullest here, away from her son and her lover.

As she told him her name, she saw the look of remembrance cross his features and it brought a soft smile to her lips. He did remember her. Though their time knowing each other was slim, it was a nice feeling to be remembered. Lusitania liked to believe that more people would remember her for the loyalty she shared and her kind heart, longing to serve. And for whatever reason, Capone remembered her as well. She watched him with eager eyes, longing to see if her welcome had been taken in good measure. She had seen the smile, but she knew that a smile wasnít everything. Voraer had taught her that, a hard lesson it was to learn.

When Capone spoke of fighting in Voraerís army, Lusitania nodded her softy. Voraer would be pleased to see such a skilled fighter in his ranks. The Rajput numbers were falling and their number of fighters was falling even faster. ďHe will appreciate such skilled aid.Ē As much as she had been hurt by Voraer, she was happy for him. He was getting the aid he had for so long wanted. Capone was skilled in battle and Lusitania knew that he would become a great asset to the Rajputs, despite him staking claim in these caverns.

Her gaze was allowed to linger, eyeing the flames above and the cool damp pool behind Capone. She would like it here. It was a little dark and didnít have too much greenery, but at least she would not be torn down day after day. Here she believed she could thrive. Hopefully she would be able to make something of her life and find happiness where she could not within the Rajput kingdom. All she had to do was wait for the invitation. And then it came. He asked her if she would join him here to offer companionship when the nights were lonely. ďYes, I will reside here with you. I have been waiting for you to ask me.Ē She had a little twinkle in her eye, a soft wink alerting him that she knew much more than she ever told anyone. She knew many things like when the rains would come and when death would fall over them like a blanket. It was surprising that such knowledge didnít depress Lusitania. But like all with their gifts, she kept it safe, using it only for good and never for evil.

And as she turned her eyes on hip, the lights around her went black. She entered a trance-like state, looking past Capone but not really seeing him. The cave faded into darkness as her mind entered a state fit for another vision, another glimpse of the future that typically gave Lusitania the warm feeling deep in the pit of her stomach. It was in her vision that he saw her, a little filly at her side, looking up to Capone and calling him father. The child would be called Arizona and would be sired by Capone himself. As Lusi stayed in this zone, she felt her lips curl into a smile just as the vision faded away. It was times like these that Lusitania relished her gift. They brought her happy visions of the future, something she could always look forward to. Though she didnít know when all this would happen, she knew it would happen before either of their deaths. This would be the daughter she always wanted, the life she couldnít have with Voraer. These visions, the visions that Voraer seemed to hate, were going to carve out a life that she would enjoy living in. It was only a matte of time. And until the day she saw her daughter at her side, she would relish every minute of her time with Capone. Perhaps through Capone she could learn to love again, to put aside all feelings for Voraer and focus on something new. Perhaps she would never love again. But even so, she could enjoy her life with Capone. He would protect her, she knew that deep within the pit of her stomach, without the aid of a vision. This was her life and she was ready to embrace it.


psychic level iv || 100 tokens || air level i || 1 token
spirit of Elyria
Replies:
Post a reply:
All images, plots, and writing copyright (c) Hoof Prince
Layout image (c) Nicole