Let The Waves Take Me Down ;;
users currently online
Caught amid limestone caves and meandering streams, Jewelled Creek is a mystery, full of spires of rock and ancient trees.
currently flooded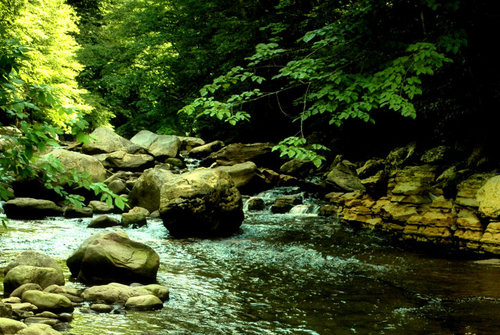 Jeweled Creek is aligned with: No One.
Alpha Stallion

---

Alpha Mare

---

The Heir

---



Unranked Mares

---

Colts

---

Fillies

---
i don't know how it gets better than this
IP: 70.138.222.179
Posted on March 6, 2010 at 12:46:17 PM by LUSITANIA




Lusitania could tell the moment his brain registered the fact that she had accepted his offer as a place to call home. Seeing the tender smile, one she didn't remember him ever passing out, she couldn't help but return it in a friendly gesture. It was nice to know that such a simple statement, a simple form of commitment could make someone so happy. That was the kind of happiness that Lusi longed for. She wanted to be able to smile at the world, to thank all the deities for all they had done for her and for her life thus far. Now, as much as she was thankful that she had met Voraer and had Rhone, she could not say that she was truly happy. There was so much evil in the world, evil that had taken its hold on her own life. But this, accepting Capone as her new protector, was one step in the right direction of true happiness. Hopefully soon she would be able to look back and say that this was the moment when her life had changed, when she knew she would forever be happy.

Not only would staying here with Capone hopefully be the start of a path to happiness, but it would also offer her a sense of acceptance. Never again would she wander the lands of Hoof Prince with no friends. She would never be alone again. Always having someone to talk to, no matter who that was, was nothing more than a simple godsend. She would enjoy her time with Capone, enjoying their endless conversations about sweet nothings. It was enough to make a small smile tug at her lips.

And when he asked if she wanted to be shown around her new home, she nodded softly. "I would very much like that." Her voice was soft and tender as she took a step closer to him. All she had really seen was the overhead flames that illuminated the immediate area of the caverns. She wished her element could offer something to better their home, but alas, all she could really do was see into the future and predict things were the most accuracy. Perhaps it would come into play soon enough.

It seemed like clockwork when her vision came. Silence enveloped them as her mind went into a trance. Her eyes were fixed and dilated, her mind focused on seeing just what was to come. And when she finally came back to reality, she saw Capone's smile. She could see the longing in his eyes to know what she had seen. It wouldn't really be fair to keep such things from him. She made spare him the details to make it more of a surprise, but she would at least rest his curiosity.

Stepping closer to him, she brushed her muzzle along his cheek, extending her neck to reach his cheek, nipping at his cheek and then at his neck. It was an affectionate gesture, to show that she indeed cared greatly for him. He had offered her a home, something no one else had. Who wanted a mare with wings as deformed and ugly as hers? As she let her lips travel along his neck, she whispered quickly into his ears, letting him know just what she had seen. Perhaps then he would realize her tender affections meant. "We will name her Arizona." She pulled back, stepping backwards a few awkward steps as she looked at him. When she had told Voraer of Rhone's birth, he had seemed shocked and in disbelief. Perhaps she would see the same look in Capone's eye.


psychic level iv || 100 tokens || air level ii || 30 tokens
spirit of Elyria
Replies:
Post a reply:
All images, plots, and writing copyright (c) Hoof Prince
Layout image (c) Nicole