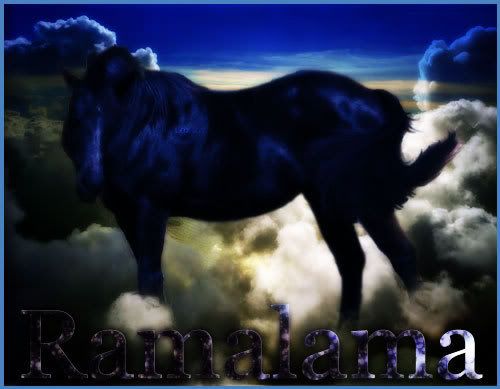 The worst part about the waiting was that Ramalama had no idea what they were waiting for. Several times had she requested that Nye, that sly Coyote, impart the information to her, but he refused--a sneaky expression on his pointed maw. Rama huffed at him.

Some guardian, she thought. I can hear you, Nye's silky voice intruded on her musings.

"Good," she snapped, irate. She was freezing. It wasn't in her nature to have a temper but the Coyote was being infuriating; looking very much at peace in the snowdrifts, every now and then bringing a paw up to lave with his red tongue. Ramalama supposed that he must not be feeling the cold as much as she did, what with his thick fur coat. She, however, felt the icy gusts break across her skin near-constantly. Nye seemed to think her current state was entertaining, and Rama couldn't help but feeling cheated on this whole Axian deal. Why couldn't she have gotten a companion that was thoughtful and caring? Hey, Nye interjected, his telepathic voice sounding wounded, that's not nice. I can be very caring, thank you. And I'd fare better at protecting you than half the other Axian in this land. How ungrateful.

The snarky comment at the end of his spiel took Ramalama by surprise. Not once in her whole life had she been called ungrateful. In fact, she was sure that she was quite an appreciative being most of the time. The cold drafts of air whipped around her and her former irritation melted into exasperated helplessness. "I'm not ungrateful!" she said, her voice breaking. She was feeling very uncomfortable with her current situation. She didn't know where she was, what she was waiting for, was being belittled by a rude Coyote, and it wouldn't be long before the biting temperature drove parts of her body to numbness.

Nye felt the change in her mood, sensing her genuine distress, he dropped his haughty air and lowered his head a bit. He took a few steps towards her. Hey now... he started awkwardly. I didn't mean it. I'm sorry. At least the Coyote wasn't too proud to apologize; that was really something Ramalama could not stand.

"It's okay," the dark mare mumbled miserably. Quick to forgive, she was. She cast her companion an pleading look with her soft, brown eyes. "But will you please tell me what we are waiting for?"

Nye sighed, You spoil all my fun. He eyed the mare up and down. We are waiting for--

And then: movement. Ramalama saw the approaching stallion before she heard him, thanks to both the distraction of Nye and the winter winds whistling in her ears. The dark mare stood, tensed, and eyed the other suspiciously as the newcomer advanced with a small hound at his side--what breed it was, Rama did not know. Nye knew though, A Pharaoh Hound, he provided the answer to her subconscious question, and quite a pretty one, a mischievous fire lit in the Coyote's eyes. When the small dog approached him, he allowed her to sniff along his fur.

"Hey sugar," he said out-loud. Rama stared at him.

"You actually speak?" she asked.

Of course, Nye reverted to telepathy and rolled his eyes. But it's much more fun this way when it's between you and me. I have to speak out-loud for the other Axian to hear me, I can only use telepathy with my chosen one.

Oh, Rama thought. Nye nodded, and returned his attentions to the Pharaoh Hound. He dipped his multi-colored head and ran a delicate trail across the dog's spine with the tip of his nose, gathering and storing away her scent.

That is when the stallion spoke. He greeted them courteously, and introduced himself as Lafayette and his Axian as Selena. Selena, eh? Nye thought and Ramalama hoped he wasn't going to do anything stupid.

"Hello, Lafayette," she began, her lack of confidence showing through her voice much more than she wanted it to. It had been far too long since she had kept the company of another equine, and to see one now was taking a moment to sink in. "I'm Ramalama, or Rama," she provided cautiously. Tipping her head in the direction of the Coyote she said, "And that's Nye."

This is what we were waiting for, Nye put in. But honestly, what a dud. I don't mind the pup, but this guy, Lafayette? No way. Don't do it.

What? Ramalama's turned her inquisitive gaze to Nye. She saw no reason to not continue the company of the stallion.

Nye heard her objection. Come on, dollface, he's vanilla. Va-nill-a.

What the hell does that even mean? Ramalama wondered. Boring, it means he's boring, darling.

The dark mare wished she could bite the Coyote on the nose to keep his mouth shut. Lafayette was perfectly nice, and she was cold, and in need of some answers. Besides, she thought, there's nothing wrong with being polite. Just stop being a wily prick for two seconds.

Ouch, Rama, you wound me, Nye thought. Gotta admit though, the babes is pretty gorgeous. If the Coyote had been gifted with eyebrows, he would have waggled them.

"Yes," Ramalama said. "Very gorgeous." It was just as the thought finished that she realized she had said it aloud, and not in her head. Her eyes widened and her breath halted in her throat. "Um," she mumbled. Oh God, what if the stallion thought she was talking about him? Oh no, not that he wasn't handsome, just that she didn't want to come off as school girl oh no, Shut. Up. Nye ordered, his expression annoyed. You are ridiculous.

The dark mare hung her head a bit. "Sorry," she offered to the stallion. "My um...he was talking about your Axian I was just...agreeing," she finished lamely.

Wow, babe, Nye thought cattily. Smooth. Real smooth.