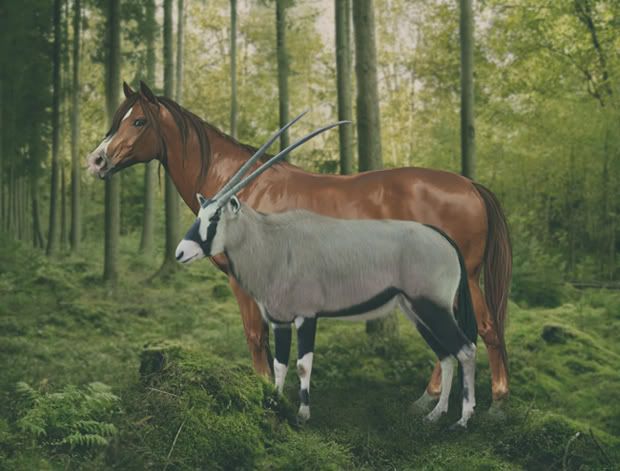 Horton would have been lying if she said she wasn't completely shocked to see Claudia as any other animal other than a horse. Never in her life would she have imagined such a thing happening but of course, unlike the little buckskin filly (or what used to be one), Horton was not one to wear her emotions on her non-existent sleeve. Now was most certainly not the time to voice her doubts or worries in this unusual matter, instead keeping her thoughts quite to herself unless making a point to speak with the child through a very similar connection she used with Blackavar. As much as she loved her equine companion the Gemsbok was fairly sure he would have been little to no help to Claudia and was grateful that she had been the one the keeper's child had gotten in touch with. Currently, Horton was sure she was the only one with enough composure to think clearly enough to find a quick solution to the incredibly odd predicament Claudia presently found herself in.

Blackavar, who was clearly not as concerned as everyone else about the way Claudia looked, merely blinked as the little fisher cat on top of him practically scoffed at his comment. He didn't think much of it and instead nudged Claudia gently with his velvety muzzle, trying to console her the best way he knew how. Obviously voicing his attempts had not worked and so he decided to stay silent from this point out, guessing that he would do a better job at making her feel better should he just stand there and hover by her side patiently. The sorrel stallion hadn't even noticed the small droplets of blood that had accumulated on his flank due to the sharp, tiny little claws Claudia had used to scamper up his back leg. It was hardly a dire wound and the scratch lines were hardly visible, the tiny drops of blood having even gone unnoticed by his axian who was now busy listening to Claudia's story, which was only embarrassing to her and her alone. Horton wouldn't waste time snickering because Claudia fell into some water.

Blinking at the girl's outburst in her mind at the end of her story, Horton pawed at the ground a few times as if to reinforce whatever she was about to say. "Claudia," she started with a snort of her own. "Please, calm down. It sounds as if you changed because you panicked, so however are you supposed to change back if you keep it up? Just try and relax for a moment. Let me think." Truthfully, Horton had no idea how to change the filly back. She had never heard of something like this happening before! Ironically enough the child's mother was probably the only equine in all of Avenion who knew a concrete solution, but unfortunately Claudia was not on such good terms with her family. "Well, I suppose the first thing to do would be to get off of Blackavar. When you do change back that would be a very bad place to be," She pointed out with a nod towards the ground next to him. She hoped that what she was about to say next wouldn't come out sounding silly to Claudia because it was the only idea she had.

"I know it may seem complicated right now but I really think this shifting business could be quite simple, Claudia. Baby axian do it all the time and if they can I'm more than sure you can do it, too." She gave an encouraging nod to the furry animal and continued. "Remember that this is not your true form. Close your eyes. Maybe you could try and re imagine the shifting process in your head? Start with your feet and work your way up. Dainty hooves instead of paws and claws, long nimble legs and a mane and tail instead of ebony fur…" Horton's voice trailed off as she watched Claudia intently. "Picture it. Know who you are and feel it inside of you." She egged on, knowing full well that Claudia's emotions were a powerful thing. Perhaps they could help her best of all.






image manip © CelticBubbles HTML © Grand. font>