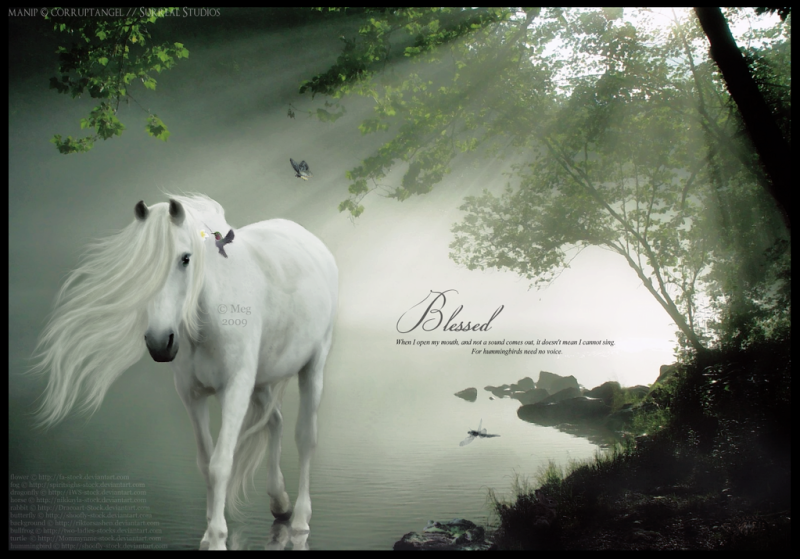 A part of her soul? A curious wide eyed gaze slithers down to a devious stare. Lifting her head the grey mare curves her neck, peering at the little green bird who had quietly migrated down her neck, his colorful body clashing brilliantly against her pale mane. Well now… Avery's tiny head twitched, not hiding his guilt or the sheepish glint in his shiny black eyes. "Hey. You asked me how I told you things…I said magic." the tiny bird piped, his voice chirping out hoarse and short. "Technically…I was telling the truth." he said, trying to defend himself. Next you're going to tell me there's pixy dust in the world and fairy tales are true…

A deep breath rolled through her lungs, only to softly hiss out into the air. Familiar was a word she knew, and despite how she could wrap her head around Avery's words when they whispered into her ear, it felt as foreign in that moment as words felt on her tongue. "Fairy tale endings are rare, but they exist, but pixy dust c'mon now sweet pea, really." Avery chided her aloud. The mare's ears flopped, each in opposite directions as she looked to the bay stallion and his wolf with pleading eyes. My soul….really? Him?! In the back of her mind, she knew what the truth was. Yes. The sarcastic little bird…was apart of her. The part no one would ever hear. Her language was not something for the ears, but rather something that had to be read with the eyes.

This part of the conversation was always the most difficult, after all, not everyone was fluent in "Mute" Tucking her delicate nose into her chest as if to point at herself, she twisted her neck, following the trail that the warm light had cut through the sky with her head. Before looking back. This was the direction home had once been. Where fairy tale endings didn't exist. Faith was bare and bloodshed was counted upon. The land was harsh and the life volatile. In tilting her head to give the stallion an inquisitive face, she felt her tresses skimming the fine hair on her neck, Only the touch of the wind told her that the scared flesh was peeking through. Trying not to draw attention to it, she made no move to fix it, as she felt Avery's tiny talons shifting the fine hairs back into place. Everyone had scars. Some were certainly more visible than others of this Blessed was certain.

"How long ago since you have found your axian?" Avery asked, not even bothering to mediate Bless' language. She had gotten to this age without him, he was certain she knew what she was doing…and saying, even if the world did not.




BlessedA Humming Bird Needs No Voice

Wordless. Selfless. Shy



Charmer of the small.