Welcome To Martin Newell's Message Board
The Karma Scene. A sort of board for messages on the Martin Newell website which also pretends to be a pub. Get your first pretend pint free. Don't pretend to be shy.'
Re(4): A small video
IP: 216.30.189.137
Posted on August 20, 2018 at 01:49:50 PM by chespo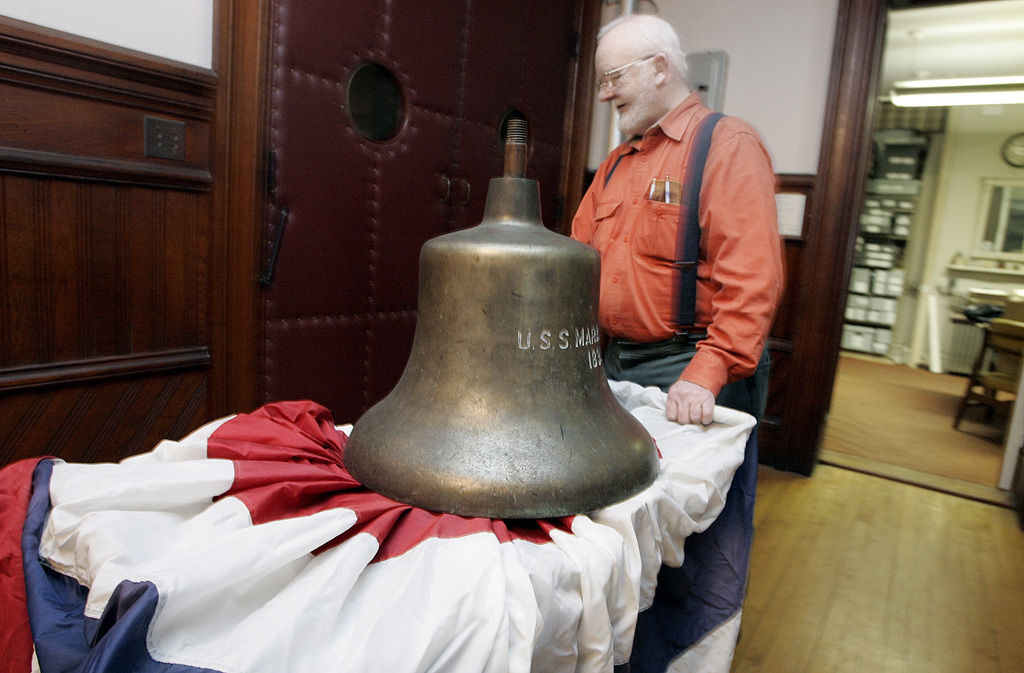 You mean you're unable to view the web page at all? Here's the text & image from it.

Image caption: Wayne Butler, chairman of the Marblehead Historical Commission, moves the USS Marblehead bell into a second-floor office of Abbott Hall. [Photo by Mark Lorenz]

Student finds USS Marblehead bell, helps bring it home
By Alan Burke Feb 20, 2008

MARBLEHEAD — On May 11, 1898, the American warship USS Marblehead joined the USS Nashville in launching boatloads of volunteers to cut the telegraph cable extending from Cienfuegos, Cuba, that linked the embattled island with its colonial masters in Spain.

A determined fight followed, according to a dispatch from the New York Times. "Spanish bullets rained thickly around the small boats," the story said, "but with desperate courage the American sailors remained calmly at their posts." One man, Marine Pvt. Patrick Reagan, was killed, and several were wounded.

The cables were cut nonetheless, and when the bloody work was done, 29 crewmen from the Marblehead were awarded the Medal of Honor — at that time just about the only award for valor available.

More than 100 years later, the Marblehead, part of America's first iron fleet, is just a memory. Which is why UMass student Chris Benning of Marblehead was astounded, while researching a project and rummaging through the cellar of the National Parks' San Francisco Maritime Museum, when he saw a crate labeled "Marblehead."

"He decided to look into it," Selectman Harry Christensen said. "And what do you know? It was the bell for the USS Marblehead."

Benning's discovery came in 2005. He quickly notified people back home — including the late Paul Lausier, then the town counsel and an avid collector of all things Marblehead. Lausier joined those trying to get the bell back home where it belongs, Abbot Hall curator Wayne Butler said.

"Paul Lausier was beside himself when he realized that the bell had been found," Christensen said. "Marbleheaders are a people of history and tradition. ... This — it's something wonderful."

The bell from the third USS Marblehead, a light cruiser that saw action against Japanese Imperial forces in the early days of World War II, has long been on permanent display in the main lobby of Abbot Hall.

The second USS Marblehead was a cruiser built in Boston and commissioned in 1894, according to the Naval Historical Center. In addition to serving in the Spanish-American War, where it participated in the capture of Guantanamo Bay, it saw service in Europe, the Caribbean and the Pacific.

In 1921, the vessel was sold and eventually scrapped in San Francisco.

"You might have been shaving with it this morning," Butler said, reciting an old Navy joke.

The National Park Service had to follow a complicated procedure in order to release the bell, which explains the lapse of time getting it to Marblehead. But it's here now, and Benning is scheduled to present it to the selectmen at their meeting tonight.

What happens after that, Butler said, is open to question. "My proposal is to put it out on a pedestal similar to the one already there."

Christensen agrees, but he worries that the bells must be displayed in a way that will not block traffic. He hopes to find a designer who might suggest some way to show them both off.

The bell looks its age, but Butler believes it can be made to shine just like the bell currently on display.

"Onboard ship," he said, "unless it was wartime and they painted it gray, I expect they kept it very, very shiny."

The first USS Marblehead was a Civil War-era vessel now long lost.

"I'd love to find that bell," Christensen said.

Replies:
Post a reply:
See you again soon